My Activities and Games are perfect for

Community Events
School Incursions
OSHC Vacation Care Incursions
Corporate Bookings
Markets and Festivals
South East Queensland is my home, servicing the

Gold Coast
Logan
Redlands
Brisbane
and surrounds
---
Click Here for my Upcoming Events
I also list my public events on Facebook.
---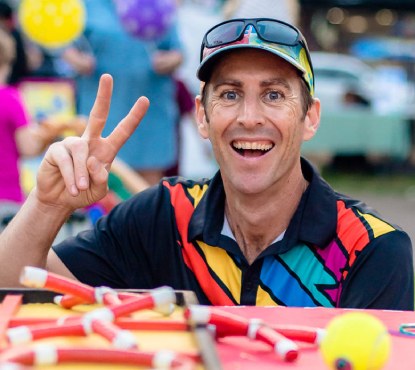 Hi, I'm Sparky. I have been delivering awesome activations in SE Queensland since 2012.
I have designed and built the majority of my kit, with the intent of creating unique and engaging experiences for all ages.
I am very flexible with what I can deliver – and have a variety of different programs.
I create Activity Zones at family fun days, street events and markets;
And offer Incursions to Primary Schools and Vacation Care programs.
Please find links below to specific information, or keep scrolling to see my unique collection of Activities and Games.
---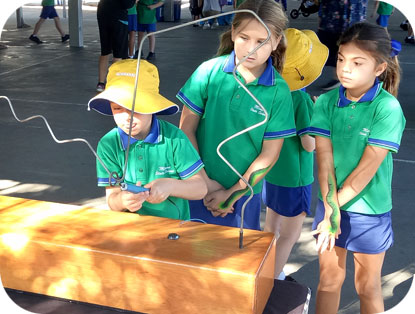 Primary School Incursions
My school incursions are unique, fun, challenging and developmental.
I am booked for Reward Days, Wellness Days, Under 8's, Sports Carnivals, End of Year Celebrations, Camps and Family Fun Days.
My "Active Pack" is best on grass and includes physical activities suitable for Prep to Year 6.
My "Skill Master Pack" is used indoors and contains games of strategy and skill suitable for Year 2 to Year 6.
Please click for more information on my School Incursions throughout South East Queensland.
---
Vacation Care OSHC Incursions
With many years experience delivering OSHC Incursions, I have tailored a kit of activities and games that offers something for every child. Independent creatives can drift between stations as they please, while the competitive team players can explore the challenges together.
My incursions are engaging, developmental and offer a truly unique experience.
Please click for more information on my Vacation Care OSHC Incursions throughout South East Queensland.
---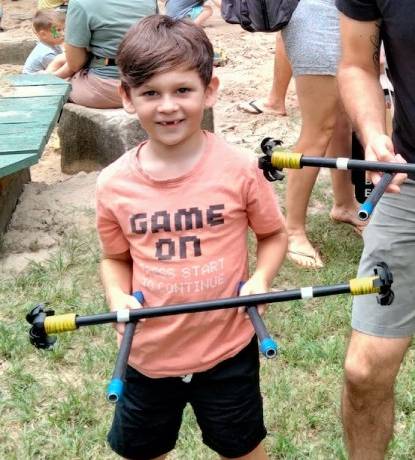 Sparky's Juggle Jam
My Juggle Jam is perfect for Incursions, Markets, Festivals, Street Events and Corporate bookings.
It is a fun and supportive introduction to Juggling sticks, Clubs, Balls, Poi and Spinning Plates.
I can deliver to an organised group, where we progress through a series of developmental tricks together, or create am Activity Area at a public event for people to come and go as they please.
Adults have as much fun as children.
Please click for more information on my Juggle Jams.
---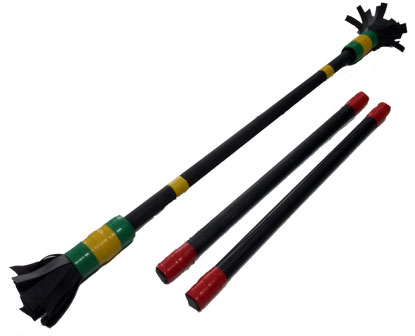 Juggling Sticks for Purchase
Juggling sticks can be equally enjoyed by all members of the family and offer hours of fun.
They are great for eye-hand coordination, building strength, following instructions and perseverance.
They have proven to be an awesome substitute for screen time for those children with little interest in non-tech activities.
I make all of the Juggling Sticks I use in my business, and take new sets with me to sell at events.
Please click for more information on buying Juggling Sticks.
---
Frisbee Golf
My Frisbee Golf kit is suitable for Schools, Vacation Care, Private and Corporate bookings.
We begin with a variety of throwing and catching challenges to build confidence and skills.
When participants are ready, they take on the Frisbee Golf course and count their throws.
It's just like Putt Putt, but with Frisbees.
Please click this button for further information on Frisbee Golf.
---
Below you will find my catalogue of Activities and Games I use at my Events and Incursions.
I have designed and built most of the kit, and sharing them with others is my Joy.
I have grouped them by Park Games, Games of Skill and Brain Games, but pick and choose from the entire catalogue to deliver the best experience I can for you at your event.
---
Park Games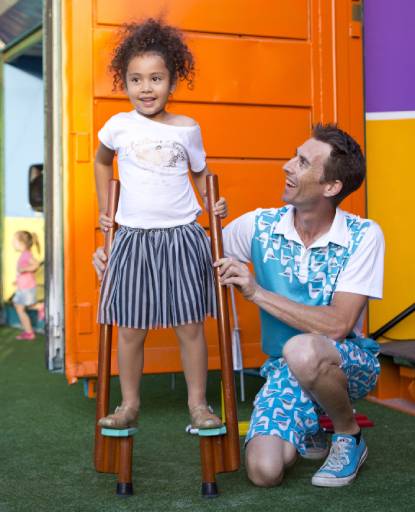 Stilts
Wow! You've Grown! My stilts are a challenging activity that develop confidence and coordination. Most children are trying them for the first time, and many adults pick up where they left off 30 years ago.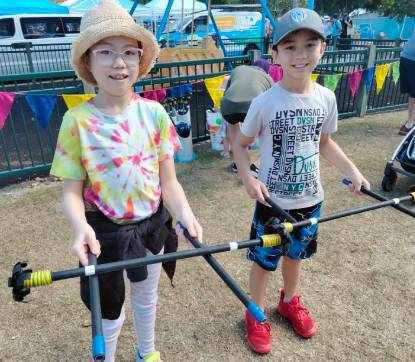 Juggling Sticks
Juggling Sticks can be used by all ages. There are very simple rolling tricks for the little ones, right up to pro-level tricks for those more able. I teach the tricks in a specific order, and only progress when the participant is capable.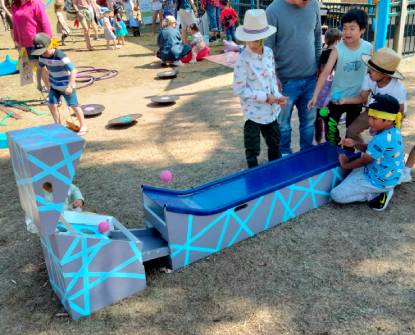 Skee Ball
Hours of Fun! Skee Ball is always popular from start to finish of every event.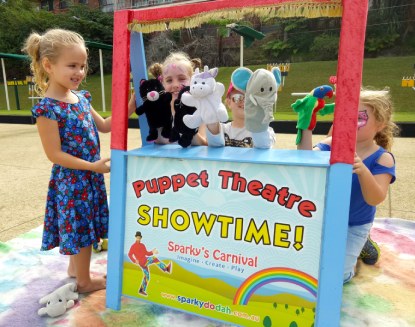 Puppet Theatre
This game of imagination offers a creative outlet from the physical challenges that surround it. Toddlers love the tactile nature of play, and can be challenged by naming the different animals and the sounds they make. Older children enjoy making up stories and putting on shows for family and friends.

Tiger Feet
Look Out! There is a Tiger Behind You! These foam feet are fun for a frolic. They help young children develop coordination and confidence.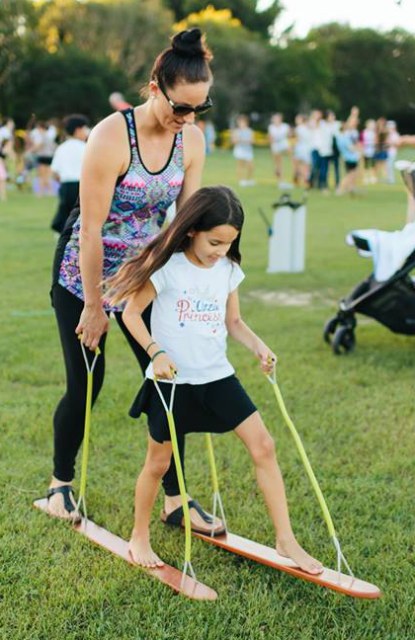 Tandem Striders
It's team-work time! It can be fun watching two children work through the logistics to make the magic happen themselves, but I am always on hand to give assistance if required. 1, 2, 1, 2.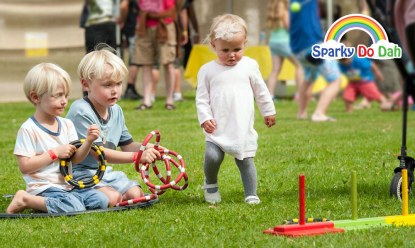 Ring Toss
Ring Toss can be enjoyed by everyone from toddlers to adults. The youngest ones enjoy the shapes and form, with more capable players choosing the distance from which to make it a challenging throw.
Ninja Tennis
The goal is to throw the tennis balls so they wrap around the ladder. There are throwing techniques for all skill levels, and difficultly can easily be increased by standing further away to throw. Parents and kids love playing this game together.

Ball Toss
This is a fun game for toddlers and children. The squishy balls can be placed or thrown through the holes. The target holes vary in size and score so capable players can play for points. This simple game mixes the elements of risk, reward, luck, skill and maths.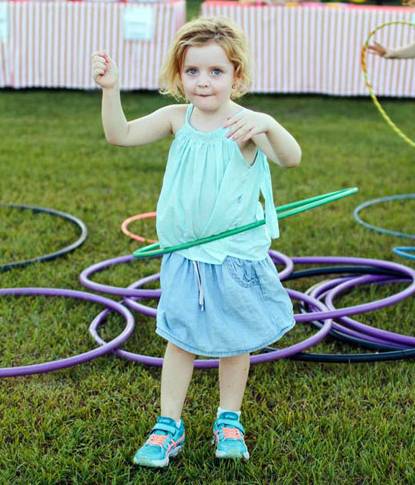 Hula Hoops
Hula Hoops are super fun. You can do lots and lots of different tricks with them.

Balance Beam
My wiggly balance beam is simple in form, but offers a variety of challenges for all ages. The youngest children are thrilled walking from one end to the other. Older children can try walking sideways, back-ways, eyes closed and by stepping over specific colours.

Animal Bouncers
Unicorns, Dinosaurs, Horses and Cows – Sparky's farm has all sorts of animals for the little ones to ride. These Animal Bouncers are only used at events with toddlers, soft grass and ample space. Children over 5 years are asked to keep off them.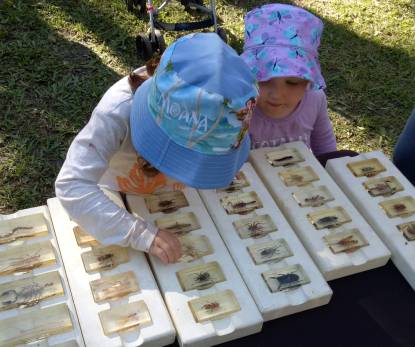 Bugs in Resin
Perfect for nature-based events, this collection of bugs in resin draws the interest of young and old. They are able to be handled and examined. I name different insects and get the children to find them, and point out interesting facts and stories about some of the bugs.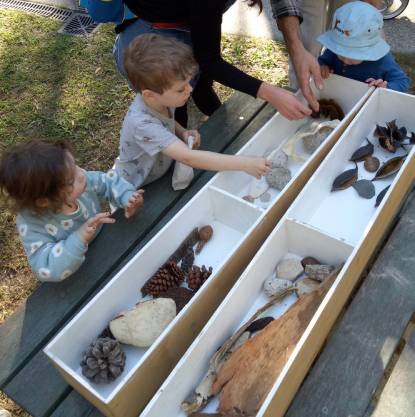 Touch Tank
Perfect for nature-based events, my touch tank allows people to explore and examine different textures and forms. They are broken into the Forest, the Sea, Rocks and Trees. If the event set up allows, I play games such as putting blindfolds on the children and placing a variety of objects in their hands as a tactile guessing game.

---
Games of Skill
Easy to Learn – Hard to Master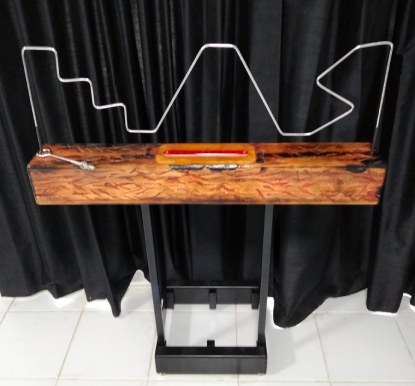 Live Wire
It takes a steady hand and nerve to move the handle from one side to the other without touching the Live Wire. A LED light flashes red when contact is made. If it flashes Red you are Dead! Just kidding.
Street Racer
This game is a head-turning draw-card. Everybody wants to see how far they can roll the ball down the track. The further you roll, the more points you score. The track speed can even be set to slow, medium and fast for a greater challenge.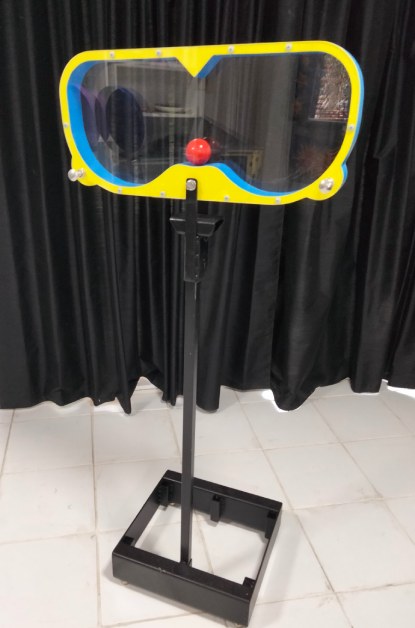 Stop Ball
All you need to do in this game is stop the ball in the middle. Sounds easy… but it's not! This game requires a gentle touch, with the best results coming from an understanding of momentum.
Roller Ball
How fast can you roll the ball to the bottom of the ladder without falling off the edges? This is a physical game that develops eye-hand coordination. It is also great exposure to risk and reward. The faster you roll, the harder the ball is to control. So do you progress slowly like the Tortoise or race like the Hare?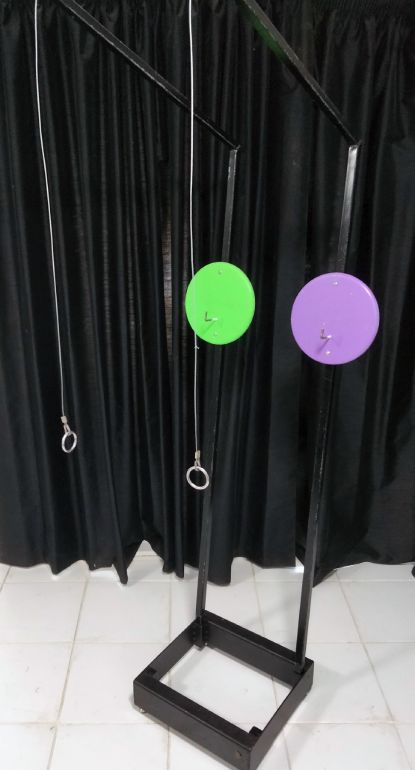 Bull Ring
Be the first to swing the ring onto the hook. It should be an easy task – but it's much harder to do when the pressure is on. Bull Ring is always very popular. It's fun to play and fun to watch.

Space Mouse
Help Space Mouse transport his cargo through the planet of cheese to his base. This game is both a mental and physical challenge. Players need to comprehend that moving the handles in and out together moves the cargo up and down, and moving the handles in and out independently moves the cargo from side to side. To travel along the path takes beginners an amazing amount of focus.
Tutti Frutti
This game is all about muscle memory and fine motor control. The ball needs to be rolled hard enough to clear the first mound, but not so hard that it returns. Players need to make very subtle changes to their strength each roll, which is difficult when they are in a race. It's an exciting game that evenly pairs combatants of different ages.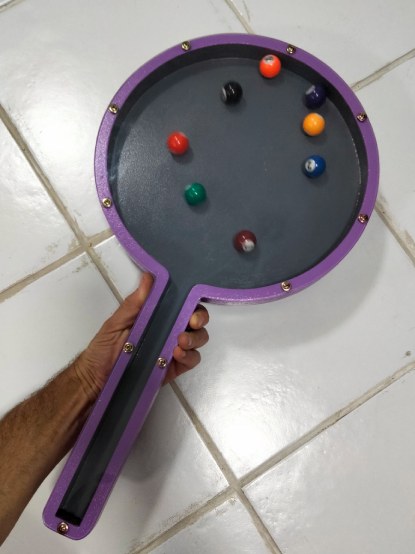 Shake, Rattle and Roll
This game is a unique challenge that develops fine motor control, focus and adaptive learning. The goal is to roll the 8 numbered balls into the handle in the correct order. Players must learn on the fly what techniques do and dont work well. They most overcome the frustration of having captured balls roll back into the arena if they are not careful. It's an exciting challenge, even though the best results come when the player is calm and steady.
---
Brain Games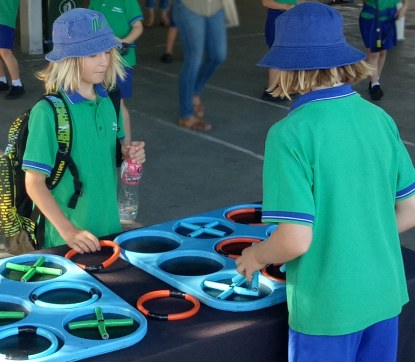 Noughts and Crosses
This classic game always gets a lot of love. Although simple, it's the perfect game to introduce the concept of strategy to beginners. They transition from trying to place 3 pieces in a straight line, (which is easy to see coming and ends in a draw), to developing strategies that give them two options to win. The light bulb goes Ding when they pull off their first few strategic moves and start winning more games.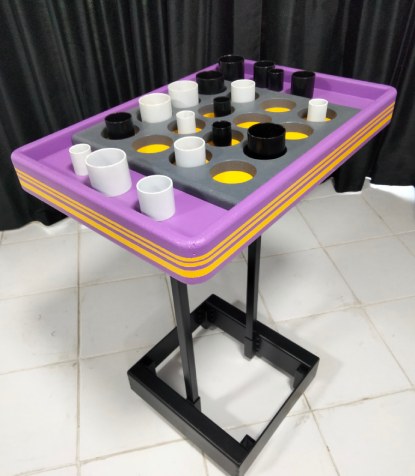 Quatro
This game is called Quatro because the winner is the first to get 4 of their pieces in a row. But it's more than just a beefed-up noughts and crosses. Each player has pieces of 3 different sizes, and can use their bigger pieces to capture the opponents smaller piece. As well, at any stage you can play a piece from your reserves or the playfield. It takes layers of thought when planning strategies. I have no greater game for developing perception. With so many variables it's very easy to miss a threat or an opportunity.
Pack a Box
This is a game of 3D Tetris. The goal is to pack all of the little boxes neatly into the larger box. Most players start with a flurry of trial and error. Without success they then try to process a solution with thought. Some people get there solo, but it usually takes a hint to get people to the finish line. They are always well pleased with themselves regardless.
Battle Bridge
It takes strategy and math to win this battle. Two players take turns. They can choose to pick up either 1, 2 or 3 sticks each turn. The battle is won by forcing the opponent to pick up the last stick. Then you are Battle Bridge Master!
Peg Solitaire
This game was recorded in history in 1697. Apparently King Louis XIV was a big fan. The game is played by jumping one peg over another and removing it from the board. The challenge is to remove as many pegs as possible. When no more moves are possible, that is your score.
This game can be played repeatedly against yourself, or by comparing your score to an opponent. If you need inspiration, King Louis could play this game and leave one peg remaining in the centre hole.
Flip It
Flip It! Flip it real good! This is a fast and fun math game that keeps the brain firing. The goal is to flip over as many tabs as possible. This is achieved with a roll of 2 dice. If you throw 2 x 4's that score is 8. You can then flip any combination of tabs that add up to 8. 1 and 7, 2 and 6, 3 and 5, or just the 8 alone. Then you roll again and try to flip that number. The game is over when you dont have the available tabs to flip that add up to the dice total. Add the tabs and that is your score. The lower the better. This game can be played repeatedly against yourself, or by comparing your score to an opponent.

---
Risk Management and Insurance
I have extensive Risk Management documentation that covers my Activities and Operations.
This is provided with my 20M Public Liability Insurance Certificate and Blue Card when booking.
Extreme due diligence has been applied to the design, construction and usage of my activities. Each piece is inspected before and after use, supported by a scheduled cleaning and maintenance program.
A Sparky Do Dah representative is always on-site during an event to watch for potential hazards and help each person to develop the skills to ensure continued safe engagement. I never dry-hire equipment.
No children are ever signed into our care. At Schools and OSHC the children remain the responsibility of the organisation. At public events, Parents are required to supervise their children at all times. We facilitate the delivery of the activity only.
---
Clients
We have worked for all of the Councils in SE Queensland, as well as a number or community service organisations, retail businesses, markets, festivals and schools.
Please click Sparky Do Dah clients to see a list.
---
Testimonials
Having started Sparky Do Dah in 2012, I have worked with tens of thousands of people in a wide variety of settings.
Many people have sent messages after their engagement, and you can read these testimonials via this link.
---